Rules & Information
The 90th Annual Grey County Kiwanis Festival of Music!
Festival Dates:  April 4-14, 2022
Festival of Stars Awards Concert: Tuesday, April 26, 2022

REGISTRATION DEADLINE: March 1, 2022
Registrations will be accepted up to March 8, with a 25% late fee applied.
NOTE: A video link is not required at the time of registration. As long as registrations are complete and paid in the system by the deadline, registrations can be edited up to midnight of Saturday, March 12.
SCORES: Participants must show their legal copy, with their name on the cover, in their video. Electronic copies must show proof of purchase.
Legal copies of music scores must be emailed to the festival by March 12 and require written publisher's permission. (Publisher's permission and the score must be included within the same email.) Exclusions: current RCM publications do not have to be emailed. Send your email to: musicgck90@gmail.com
---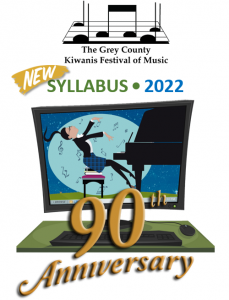 Download the complete 2022 Syllabus
1. Participants must upload their video* to YouTube and include the link by the deadline. (Recording quality will not influence adjudication.)
2. All participants will receive a written adjudication, class certificate, and are eligible for awards, scholarships, and provincial recommendation.
3. Recorded accompaniment will be allowed in all virtual classes.
4. Award winners will be notified via email
*Video must be ready in order to complete registration.

The YouTube video can be either public or unlisted, but the "Kids for YouTube" setting must be turned OFF.
---
RULES:
WORKING MANAGEMENT
The competition shall be under the working management of a Board of Directors, which is hereinafter called 'The Board'.
Any questions not dealt with in these rules shall be referred to The Board, whose decision on such matters shall be final and binding on all concerned.
ENTRIES
Anyone can enter the Grey County Kiwanis Festival of Music, but awards are limited to Grey & Bruce residents.
The official syllabus and online registration may be obtained online at kiwanismusicfestival.net.
The Board shall fix the date by which entries must be received, including an extended deadline with a late fee. All entries received after such dates cannot be accepted.
Once class times are set and confirmations are distributed, no changes to the schedule will be made.
Entry fees cannot, under any circumstances, be refunded.
In classes where age limit is specified, competitors MUST be the prescribed age or under as of December 31 of the previous year and must state their birth date in the online registration form.
ALL SECTIONS OF THE ONLINE FORM MUST BE COMPLETED ACCURATELY AND FULLY. The prescribed fee MUST be paid online. Incomplete entries will not be processed.
All classes, unless otherwise stated, shall be open to amateurs only. For the purpose of this Festival, an amateur shall be any person whose principal means of livelihood is not derived from the profession of music.
Any official of an organization may register their students through our online process.
Non-compliance with performance rules shall result in the competitor receiving an ADJUDICATION ONLY.
FESTIVAL PIECES
Festival Pieces shall be chosen at the level of study (or above) as of December 31st of the previous year.
No selections may be performed in more than ONE class by the same competitor.
Repeating repertoire/music selections from the previous year is NOT allowed.
Participants must refer carefully to either the RCM or CC syllabus to determine how many and which movements of a selection are required (i.e. one mvt., two mvts., or complete).
Unless a piece is specifically written to be unaccompanied it must have accompaniment.
Pieces for SOLO Vocal, Piano and String Classes MUST be memorized unless otherwise specified. Brass and Woodwind soloists are encouraged to memorize. Memorization is not required for ensembles.
Note: Memorization of music is compulsory in some disciplines at Provincial Competitions.
If the music performed is not that listed on the entry forms, it will be for ADJUDICATION ONLY. (This rule does NOT apply to Bands and Orchestras.)
Competitors in OWN CHOICE classes must provide the adjudicator with a legal copy of the music chosen. Failure to do so will result in a "for adjudication only" performance. Special Note: When music is purchased online we will accept it as an original copy when accompanied by proof of purchase.
Competitors are reminded that photocopies are an infringement of the copyright laws in Canada. Illegally reproduced music will not be allowed in the competition.
As a general rule:
Do not play identical repeat sections in Solo classes, unless indicated in the syllabus. (This does not apply to Suzuki classes).
The Da Capo signs must be observed.
Own Choice selections from the Conservatory Syllabi shall follow the Conservatory direction concerning repeats as stated in their Syllabi and/or Repertoire and Study Books.
VOCAL CLASSES
Vocal pieces MUST be performed in the prescribed key, unless provided for under the class or section. In Choral and Junior Vocal Classes, transpositions are limited to one tone up or down.
In order for choirs to be eligible for Provincial recommendation, they must perform two contrasting pieces in their class.
The original language MUST be used in vocal concert groupings. In other classes choice of language is optional.
Choirs shall have a maximum of 100 children under 12, or 70 members 13 & over.
INSTRUMENTAL CLASSES
In instrumental classes, time shall be allowed for a general tuning before classes begin. A fine tuning only, not to exceed TWO minutes is permitted before playing.
In all Instrumental solo classes where accompaniment is given, the Festival Piece MUST be performed with accompaniment. Live accompaniment only will be permitted, except for virtual classes.
Bands and Orchestras may play a warm-up selection, which must be either a chorale or a scale, not to exceed ONE minute.
PROGRAM PROCEDURE
The competitors in each class will be organized in random order. Class conflicts within our festival will be resolved on an individual basis via the Festival Coordinator. Scheduled times will NOT be changed to accommodate a performance in another Festival.
In the event of entries being too numerous, The Board reserves the right to split the classes.
No class shall commence prior to the stated time of that class. The adjudicator shall indicate when he/she is ready to proceed.
An adjudicator is not permitted to enter into any discussion or correspondence with teachers, parents or competitors concerning a performance or decision prior to, during, or after the Festival. Any infraction of this rule could disqualify the performer.
All competitors are forbidden to rehearse in the venues during the weeks of competitions. Any infraction of this rule shall disqualify the competitor.
There must be no coaching of competitors by anyone attending Festival Sessions while the competitor is performing. Any infraction of this rule shall disqualify the competitor.
Certificates will be awarded in accordance with the following classifications of Gold, Silver and Bronze standards: Gold (85-100), Silver (80-84), and Bronze (75-79). The actual numerical mark awarded to the student will accompany the award. Students not achieving minimum award standards shall receive a Participation Certificate. Bands, Orchestras, Choirs and ensembles larger than three will be awarded one certificate for the entire group.
The decisions of the adjudicators are final.
ADMISSION OF COMPETITORS AND PUBLIC TO THE CLASSES AND AWARDS CONCERT
Competitors and the General Public attending the Festival classes and/or Festival of Stars must do so quietly, and must refrain from conversation during the progress of any performance.
RECORDING DEVICES OF ANY KIND (Video, Tape Recorders, Cameras, etc.) SHALL NOT BE PERMITTED in the Halls while the Festival is in progress. The Board may authorize photographs, interviews, and recordings for accredited Media with the participant's/guardian's permission.
 COMPLAINTS AND PROTESTS
Complaints and protests must be made directly to the Festival Coordinator via email at info@kiwanismusicfestival.net. Such complaints and protests are not to be discussed with the adjudicator. The decision of the board is final and binding on all involved.
AWARDS OF EXCELLENCE
Competitors in all classes, trained or untrained, are eligible for monetary awards.
To be eligible for a solo Award of Excellence, a competitor MUST have competed in at least TWO solo classes in a discipline.
Recommendations for awards are at the absolute discretion of the adjudicators.
A competitor may receive an award in more than one discipline.
The amount of money allocated for each award is at the discretion of the Awards Committee.
Recommendations to Provincial Competitions are made by the Adjudicators.
DRESS CODE
It is expected that competitors will dress appropriately, showing respect for the music, the occasion, the adjudicator, fellow competitors and the audience. Your appearance is part of your performance.
THE FESTIVAL OF STARS AWARDS CONCERT
The Festival of Stars Awards Night shall be so arranged as to present participants in a well-balanced programme. All those selected to perform shall be officially notified. ONE selection only shall be performed.
QUICK STUDY AND SIGHT READING CLASSES
Quick Studies will be available 24 hours prior to the class time listed in the program. The pieces should not be common repertoire or in either the RCM or the Conservatory Canada syllabus.
The difficulty levels should be: for Quick Study – 1 year below the working grade level, for Sight Reading – 2 years below.
Teachers are not to help the student with Quick Study pieces except to provide reference material if needed.
Sight reading students are allowed 5 minutes to look over the piece before playing.
COPYRIGHT
The term "copyright" refers to the rights of the creator of an intellectual work such as music. Although it may not be easily tangible, a creative work is a valuable property. The Canadian Copyright Act protects the rights of creators to retain control over, and be compensated for the use of, their creations. The reproduction of copyrighted materials is illegal. Permission must be granted by a holder of the copyright (the publisher) on the composer's behalf in order for a copy to be made for any purpose.
VIRTUAL ENTRIES
It is the participant's responsibility to abide by any and all government guidelines regarding physical distancing as of the date you submit your video.
All virtual entries are required to enter their YouTube links by the deadline.
Photo Release, Waiver and Consent is required for virtual festivals. If you do not grant Photo Release, Waiver and Consent, we are legally not permitted to share your video with anyone, including the adjudicators. In order for adjudicators to be shown your registration video, you must grant Photo Release, Waiver and Consent.
Introductions may be recorded separately or graphically inserted into video.
Online recording submissions do NOT have to be first-take. Multi-movement piece/Concert group classes must be recorded in one sitting.
Recordings should be uploaded to an Unlisted or Public YouTube channel with the 'Child' setting turned OFF. The url link to your video must be submitted by the video deadline.
Accompaniment may be live, pre-recorded, or Trax. No background/back-up vocals are permitted.
Adjudicators will only judge the quality of the performance and NOT the quality of the recording.
Music Scores: Participants must show their legal copy, with their name on the cover, in their video. Electronic copies must show proof of purchase.
Legal copies of music scores must be emailed to the festival by the registration deadline and require written publisher's permission. (Publisher's permission and the score must be included within the same email.) Exclusions: current RCM publications do not have to be emailed. Send your email to: musicgck90@gmail.com
---
Certificates and Awards
Gold, Silver or Bronze certificates will be awarded, instead of First, Second, Third.
All participants will also receive their actual mark.
Gold Standard (85-100) Exceptional, Highly Skilled, Outstanding Performance
Silver Standard (80-84) Skilled, Excellent Performance
Bronze Standard (75-79) Agreeable Performance
Participant (Below 75)
Festival of Stars awards will remain the same. Adjudicators will select the participants they feel are most worthy of recognition for Festival awards, scholarships, and/or Provincial OMFA recommendation.
Provincial Recommendations: Our gold standard meets the Provincial competition mark requirement. We look forward to nominating our recommendations!
We hope all our performers have an enjoyable and educational experience!
---
Printable Syllabus
Please note that registration is ONLINE only. We have provided downloadable, printable PDFs of our syllabus for your convenience on our Download Syllabus page.
Grey County Kiwanis Festival of Music
A proud member of:
Ontario Music Festivals Association (OMFA)