2024 Grey County Kiwanis Festival of Music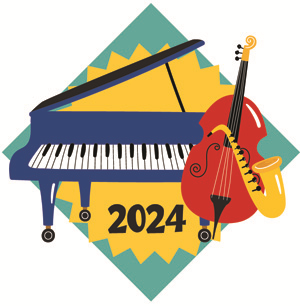 Our 92nd Anniversary!
LIVE  FESTIVAL 2024

Festival Dates:
April 15-26, 2024
Festival of Stars Awards Concert: Tuesday, May 7, 2024
Registration Deadline:
Friday, February 16, 2024 at 9 p.m.
Late Registrations accepted until Friday, February 23, 2024 with a 25% late fee penalty.
Titles & Composers (TBA) information due Friday, March 8, 2024
Original compositions due Friday, March 22, 2024 (Emailed to musicgck90@gmail.com)

---
Registration is now OPEN!
Registrations are completed online through the secure MusicFestivalSuite (MFS) registration system.
Download our 'How to Register' document.


---
Get your
tickets today!


---
View our list of ADJUDICATORS  for 2024!
---
Festival Rules
Click here to Download
Note: All participants must follow both the General Rules, plus their Discipline-Specific rules.

---
Syllabus 2024: Click the following links to download.
---
2024 Tentative Schedule:
Note: This is a TENTATIVE Schedule only, based on adjudicator and venue availability. The final schedule will be dependent on registration numbers.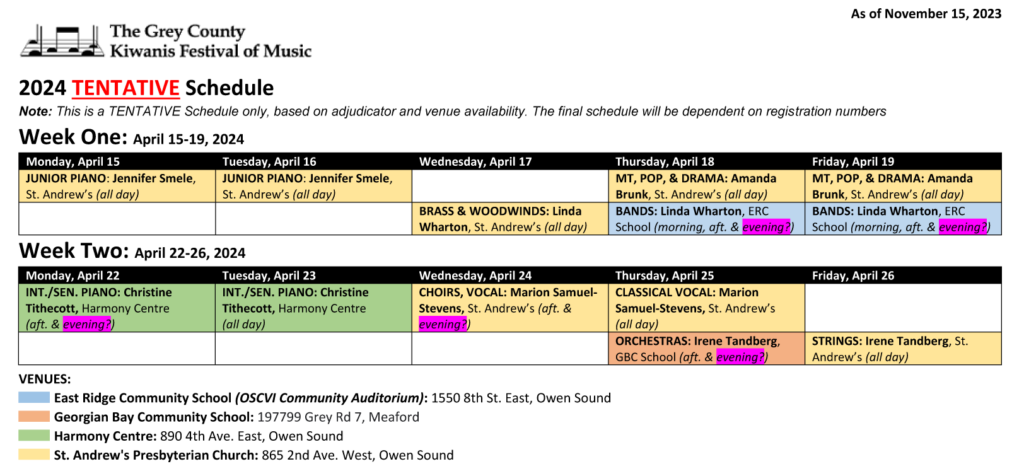 ---
2024 Community Scholarships & Awards:
Plus recommendations for the 2024 Next Wave Showcase!
---
2024 OMFA PROVINCIALS: The Ontario Music Festivals Association (OMFA) is offering a Live/Virtual Provincial competition from June 10 to 15, 2024. Visit their website to learn more and to find if your discipline/level will be live or virtual at the Provincials.
---
2024 will be a LIVE FESTIVAL again and we're recruiting volunteers.
Come join us at the Festival!
You can sign up to volunteer, or email us to find out more about the Festival.
You can also fill out our Volunteer Sign-up sheet and email it to us.
---
"100 for 100" Fundraising Campaign
Working towards our 100th Anniversary! (1932-2032)
The Grey County Kiwanis Festival of Music is a Registered, Not-for-profit, Charitable Organization.
Donations can be sent to the Festival's address at:
Grey County Kiwanis Festival of Music
P.O. Box 456, Owen Sound, ON. N4K 5P7
(Charitable receipts are sent out in late December for all mailed/registration donations for the calendar year.)
or click the link below to receive an instant receipt through our official Canada Helps page.


---
Festival of Stars Awards Concert 2022


Download the Festival of Stars Program 2022
Visit our updated AWARDS Page!
For instructions on 'Exporting Your Profile to Provincials', click this link.
---
Festival of Stars Awards Concert 2021

Download Festival of Stars 2021 Program
---